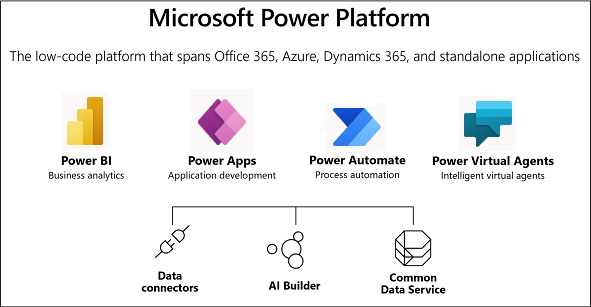 Microsoft Power Platform
A collection of awesome things regarding the Power Platform ecosystem.
---
💬 General
Sign-in Links
Power Apps - Sign-in to Power Apps maker portal where you can create apps along with other things.
Power Automate - Sign-in to Power Automate where you can create flows, business process and UI flows.
Power Virtual Agent - Sign-in to PVA where you can create and manage your bot.
FAQs
🌎 Environment for learning Power Platform
Sign up for the Microsoft 365 Developer Program and setup Microsoft 365 dev subscription.
Option 1 - Power Apps Trial Plan
With this you can sign up for the trial using your personal email address, and you also get Power Apps for Office 365 included in the trial. Even though the trial is only for 90 days, it will be extended indefinely, if there is valid developer activity.
Option 2 - Power Apps Community Plan
Using the username and domain created for Microsoft 365 dev subscription, you can signup for Power Apps Community Plan that gives you most of the features; for more details on which features are included see details here. Step-by-step process of creating the Developer Environment please read this blog post.
Difference between the two options
Both Power Apps Plan Trial and Power Apps Community Plan are free, but are created for different purposes. Details here.
💪 Common Data Service
Common Data Service lets you securely store and manage data that's used by business applications.
⚡ Power Apps
Power Apps is a suite of apps, services, connectors and data platform that provides a rapid application development environment to build custom apps for your business needs.
Forums
Register for Power Apps Forums here.
🚀 Power Apps Component Framework (PCF)
Installations
---
🐱‍🏍 Power Automate
Power Automate is a service that helps you create automated workflows between your favorite apps and services to synchronize files, get notifications, collect data, and more.
Forums
Register for Power Automate Forums here.
---
🤳 Power BI
Power BI is a collection of software services, apps, and connectors that work together to turn your unrelated sources of data into coherent, visually immersive, and interactive insights.
Forums
Register for Power BI Forums here.
---
🤖 Power Virtual Agents
Power Virtual Agents allows you to easily create your bot, and embed it into your website with just a few clicks. Also, known as PVA.
Forums
Register for Power Virtual Agents Forums here.
---
📰 Newsletters
---
➕ Contribute
Contributions welcome! Read the contribution guidelines first.
🐛 Found an issue
Two ways to help.